Where to Begin?
It's so easy to become overwhelmed by the need in the world. Watch 10 minutes of cable news and you'll see scenes of unimaginable suffering in dozens of locations all over the worlds. Watch another 10 minutes and you'll learn about how many people in our own country are in desperate need of help. Stay for the whole 30 minutes and you'll begin to wonder how positive change will ever be possible. It's no wonder so many people choose to ignore these problems altogether. IT'S HOPELESS!
But it's not hopeless…
Change Begins at Home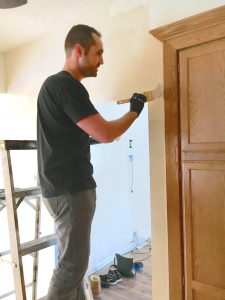 Maybe there's not much we can do to change the state of the world. Many of those problems are just too big. But if you look around, there's plenty of opportunities to help people in your own community. Situations where a small group of concerned individuals can make a real difference in real people's lives. We learned that lesson firsthand recently.
A few weeks ago, Scott Tienken became aware of a local family who'd undergone a series of truly horrific personal tragedies in a very short time frame and were struggling under the weight of it all. Scott learned that their home was in serious disrepair and they just couldn't address the problems under their current family circumstances. Fortunately Scott is a housing expert and knew exactly what was necessary to give their home a fresh face. So with the help of his parents, Brian and Kim, and a family friend, they spent a recent Saturday fixing and freshening what they could.
Every Little Bit Helps
Nothing Scott and his family could do would ever take away the terrible things that family suffered through. But on that Saturday, they attacked the one place where they knew they could help most. And hopefully that small blessing will carryover for that family in much larger ways.
The need of the world is overwhelming but that doesn't mean you can't help. Look for the small opportunities to make your backyard better. Find ways to improve your community by caring for those you share it with. If more people acted with this goal in mind, the world would be a much better place. We're so glad we got that opportunity.