Sip & Savor with the Tienken Community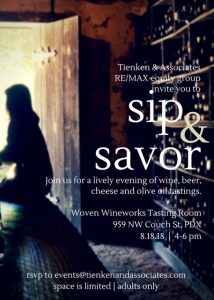 Tienken and Associates RE/MAX equity group would like to invite our friends and former clients to an evening of wine, beer, cheese, and olive oil tasting at Woven Wineworks Tasting room.
Come join us for an evening filled with laughs and lively conversation as we extend our thanks to everyone who's helped make our business so successful over the years.
This private event is open to adult members of the Tienken Community. Space is limited, so RSVP today to events@tienkenandassociates.com.
For more information on how to join the Tienken community, give us a call at (503) 495-3721 or fill out our contact page.
Event Details
Woven Wineworks Tasting Room
959 NW Couch St.
Portland, Or 97209
8.18.18 | 4-6 pm